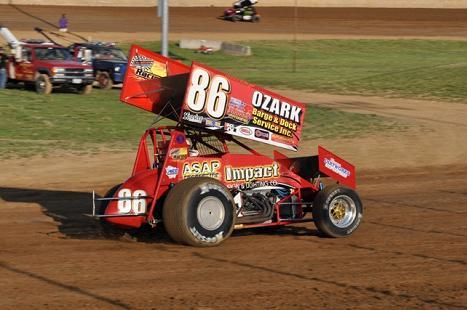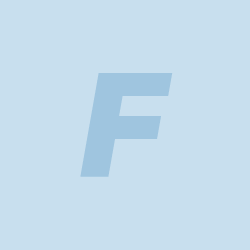 6/7/2010
---
Fisher Files – Darn Yellows!
(Bill W) June 7, 2010 – On three occasions cautions wiped out a pass for the lead by Josh Fisher on Saturday at Lake Ozark Speedway near Eldon, Missouri. He would have to settle for second. Setup problems hampered the Smithton, Missouri driver and the Rick Northrop #83 team on Friday night with the 410 at Jacksonville Speedway. Josh will race at both venues again this weekend.
Friday, Josh started inside row two in his heat race in 410 action at Jacksonville Speedway in Illinois. "We're having some problems keeping the front end on the ground," he says of the #83. "We did a big wheelie to start our heat, and I lost a couple of spots. I started running the top, and the car got tighter and tighter. We ended up sixth."
He started twelfth in the main event, and that is where he would finish. "The first four or five laps we were running well and up to seventh or eighth," says Josh. "We had a caution, and after that, I struggled with the car. We fell back to twelfth in the end. We'll try it again this Friday, and we'll get it figured out."
Things went better on Saturday at Lake Ozark Speedway in the family's Ozark Barge & Dock Services #86. Though he slipped up early on in the heat, he came back to challenge for a win. "We drew a decent number (outside row two), and I was leading by the back straightaway on the first lap," says Josh. "I hate to use excuses, but the sun is tough in turns three and four, and I spun out. I just didn't see my spot over there, and spun it out in the slick stuff. We were able to get back up to second from the back, and we almost passed (Randy) Martin for the win."
After charging from sixth to third in the dash, Josh had his sights on his second win in a row at the 1/3 mile oval. He faced a familiar rival for the win. "I got up to second pretty quick, and it was Martin and me from then on out," he explains. "We got in lapped traffic, and I got by him. Then the yellow came out and I had to go back behind him."
The process was repeated on two other occasions. "He tried a slidejob on a lapped car, and I went around both of them at the same time," says Josh. "I pulled a half a straightaway on him, and the yellow came out again. With two to go, I had him passed again, but the same thing happened."
If the cautions came at an inopportune time for Josh, Randy Martin thought the opposite. "I rode my four-wheeler down in front of his pit, and he came out," says Josh. "The first thing he said was, 'Thank God for yellows'. It was a good race, and the fans in the stands said it was one of the best races they had seen in awhile."
This weekend Josh will campaign the same schedule, with Jacksonville on Friday and Lake Ozark Speedway on Saturday.
Follow Josh on his Website and on MySpace, Facebook and Twitter!
Follow Josh at his website located at www.JoshFisherRacing.com! Also keep up with him on MySpace, Facebook and Twitter (which also can be accessed at the website) at the following links…
MySpace link = http://www.myspace.com/joshfisherracing
Facebook link = http://www.facebook.com/profile.php?ref=name&id=100000662545016
Twitter link = http://twitter.com/JEFRacing
Josh would like to thank the following sponsors for all their help: Ozark Barge & Dock Services Inc., ASAP Properties, Impact Wraps, Impact Sign & Lighting, Fischer's Concrete, Champion Brands, Bill Ferguson Livestock Trucking, K&N Filters, Butler Built Seats, Maxim Racing Chassis, Winters Performance, Bell Helmets, Hoosier Tires, Ramey Dirtworks, TCI Tire Centers, Brian's Gym
[i Photo - Josh races to second at LOS (Paul Gray/STLRacing.com Photo)]
Back to News