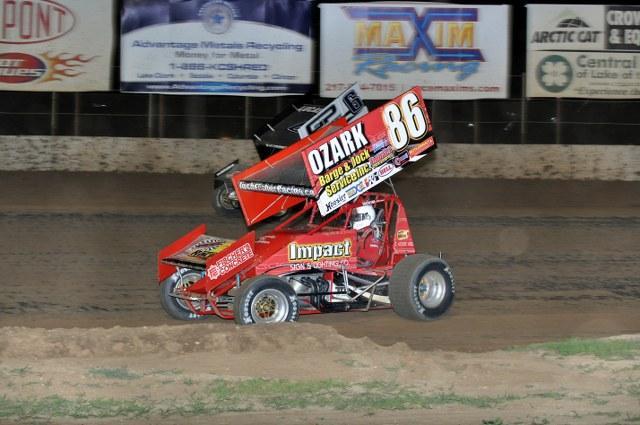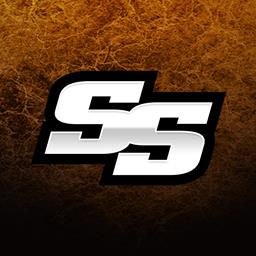 ---
Fisher Files – Power Outage at the Lake!
(Bill W) June 28, 2010 – Josh Fisher held his own against the best the Lucas Oil ASCS National Series at his home track, Lake Ozark Speedway near Eldon, Missouri. The twelfth place finish in the Daniel McMillin/Jesse Hockett Memorial after coming through the B, rang a little hollow with him, however, as the car was a bit down on power. The good news was the problem was found later, and he looks forward to another week at Jacksonville Speedway in Illinois and back at LOS.
Starting fourth in his heat, Josh would run third in the Ozark Barge & Dock Services #86. It wasn't enough to get in the main event. "Our heat run put us on the outside of the front row for the B," says the Smithton, Missouri driver. "We had Kyle Hirst and Shane Stewart in there along with some other guys. Hirst took off to the lead and I was running second. About halfway through, Shane passed me on the high side of one and two. He went on to pass Hirst on a restart with three or four to go. I was able to get by Hirst in turn one after we had taken the white flag."
After the exciting race put him in a transfer, he started 22nd and began to move forward on a different track surface. "We were working pretty well," says Josh. "The track was different. It was good in spots and others not so good. Usually with that number of cars, the place to be is on the top. Saturday, we were running from the bottom to the middle."
Josh would advance to twelfth at the checkers against the stout field. "Towards the end, one and two started being better around the top," he says. "The bottom was too good in three and four to get off of. We passed some good cars; it was just a tough deal with the motor."
The problem was found on Sunday at the car wash. "We broke a header a couple of weeks back, and it was popping," says Josh. "We put a different set on, and it seemed to kill our momentum. It just sputtered on the top end all night long. Later, when we were washing it, we found out we had a ground wire that had broken off from the MSD box. I think that was our biggest problem. Maybe with a better car, we could have run a few spots higher."
Friday saw the Sprint Invaders visit Jacksonville. Josh's night in Rick Northrop's #83 started rocky in the heat. "The tire rolled off the bead going down the backstretch," says Josh. "I thought there may be something wrong. It hit the wall, and unbeknownst to me, it knocked the steering out. I came down the frontstretch heading into turn one not knowing there was a problem, and when I tried to steer, I knew I better brace myself."
Josh was able to brake enough to avoid a big disaster, but the car tipped over. There it was hit after several seconds by a fellow competitor. "I don't think it tore too much up until we got hit while we were sitting there," he says. "We patched it back together, but we didn't get to work on setup at all."
The driver made the decision to bring the car back from the feature in one piece with a DNF. "We were able to pass a couple of cars, but in the end, I just pulled it in," he says. "There was no sense tearing it up on a one-lane track."
This Friday night, Josh will be back in 410 competition with the #83 coming off a solid fourth place finish two weeks back. The Leon Smith Memorial will pay $2,500 to the winner. Josh will return to action in the #86 at Lake Ozark Speedway on Saturday.
Follow Josh on his Website and on MySpace, Facebook and Twitter!
Follow Josh at his website located at www.JoshFisherRacing.com! Also keep up with him on MySpace, Facebook and Twitter (which also can be accessed at the website) at the following links…
MySpace link = http://www.myspace.com/joshfisherracing
Facebook link = http://www.facebook.com/profile.php?ref=name&id=100000662545016
Twitter link = http://twitter.com/JEFRacing
Josh would like to thank the following sponsors for all their help: Ozark Barge & Dock Services Inc., ASAP Properties, Impact Wraps, Impact Sign & Lighting, Fischer's Concrete, Champion Brands, Bill Ferguson Livestock Trucking, K&N Filters, Butler Built Seats, Maxim Racing Chassis, Winters Performance, Bell Helmets, Hoosier Tires, Ramey Dirtworks, TCI Tire Centers and Brian's Gym.
(Photo): Josh races under Kyle Hirst in the B at LOS (Paul Gray/STLRacing.com Photo)
---
Submitted By: Bill Wright
Back to News