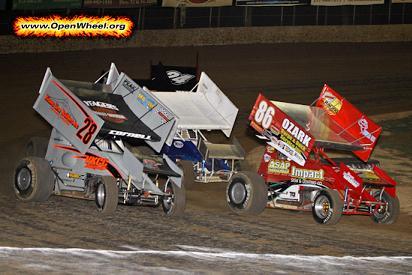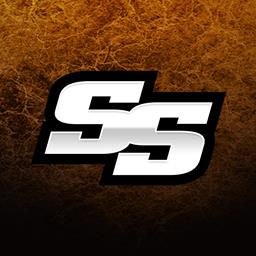 ---
Fisher Files – Still Out Front at the Lake!
(Bill W) August 25, 2010 – Josh Fisher continues to dominate the season standings at the Lake Ozark Speedway near Eldon, Missouri. The Smithton driver would have liked to have held the lead to another feature win there, but a move in lapped traffic put Jonathan Cornell in position for victory. This week, Josh will drive Rick Northrop's #83 in 410 competition at Jacksonville Speedway in Illinois on Friday before returning Saturday to the Lake aboard the Ozark Barge & Dock Services #86.
After rain canceled plans to run Jacksonville on Friday, Josh was back to LOS on Saturday after a couple of weeks off. The absence did not affect the draw in a bad way. "We've been letting Eric (crewmember) draw for us lately, and he came through with a three," says Josh. "That put us on the pole, and we were able to win that."
The defending LOS Nationals champ would start the dash in the same spot…on the pole. He would have similar results too. "We had a good start on Cornell in the dash," he says. "I say this all the time, but maybe I should just finish second in the dash so I can start outside for the feature. We went and won it again, though."
Josh shot out to a good lead in the feature event on the groomed 1/3 mile oval. At the midway point, lapped traffic became an obstacle. "We had a good run there and led the first 13 laps or so," he says. "I was being way too cautious in lapped traffic. When I came up on them, there were two on the top and two on the bottom. They were running side by side. It was almost like they were lining up for the feature."
That allowed Cornell to reel him in and make a move from second. "I was up on top and then I tried to slide in front of one (of the lapped cars)," says Josh. "He wouldn't get out of the way. One went to the top, and I had to go to the bottom. Here comes Cornell by us and sliding two of them."
A red flag developed after contact with RJ Johnson. "I cut down to the bottom to pass Curtis Boyer, and I came up beside RJ," says Josh. "We ended up getting together and he got upside down."
Since the lap was not completed, Josh expected to be put back in front of Cornell on the restart. "We hadn't made a full lap, so I really thought we should still be still leading the thing," he says. "Sometimes the rules are strict, and sometimes they just don't matter…like on Saturday."
Josh would maintain second place at the checkers in another solid finish. He currently holds a 249 point lead in the standings over Cody Baker with a handful of races remaining at LOS, and is looking forward to getting back in the #83 at Jacksonville on Friday.
Follow Josh on his Website and on MySpace, Facebook and Twitter!
Follow Josh at his website located at www.JoshFisherRacing.com! Also keep up with him on MySpace, Facebook and Twitter (which also can be accessed at the website) at the following links…
MySpace link = http://www.myspace.com/joshfisherracing
Facebook link = http://www.facebook.com/pages/Josh-Fisher-Racing-86/103797769651510?ref=ts
Twitter link = http://twitter.com/JEFRacing
Josh would like to thank the following sponsors for all their help: Ozark Barge & Dock Services Inc., ASAP Properties, Impact Wraps, Impact Sign & Lighting, Fischer's Concrete, Champion Brands, Bill Ferguson Livestock Trucking, K&N Filters, Butler Built Seats, Maxim Racing Chassis, Winters Performance, Bell Helmets, Hoosier Tires, Ramey Dirtworks, TCI Tire Centers and Brian's Gym.
PAT GRANT PHOTO
---
Submitted By: Bill Wright
Back to News