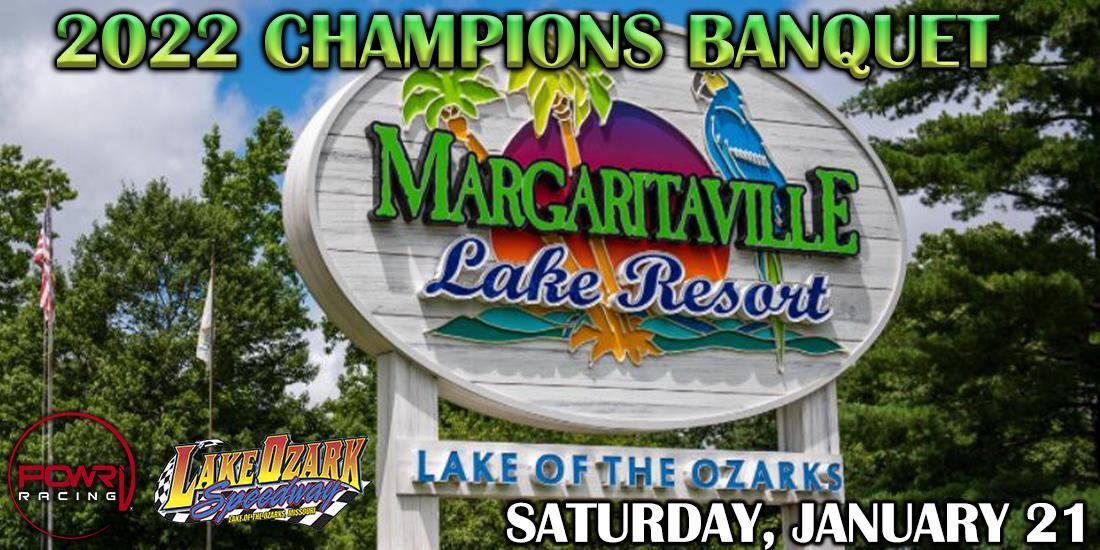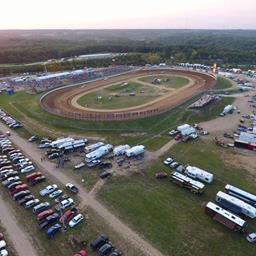 11/3/2022
Lake Ozark Speedway
---
2022 POWRi & Lake Ozark Speedway Championship Banquet Honorees
Belleville, IL. (11/2/22) Honoring the achievements of on-track accomplishments and commitments of competitors in a season of dedication, the 2022 POWRi & Lake Ozark Speedway Championship Awards Banquet will be held on Saturday, January 21, 2023, at the Margaritaville Lake Resort in Osage Beach, Missouri.
WHAT: POWRi & Lake Ozark Speedway | 2022 Championship Awards Banquet
WHEN: Saturday, January 21, 2023, | 5:30 PM
WHERE: Margaritaville Lake Resort | 494 Tan Tara Estate Drive, Osage Beach, MO 65065
WHY: To Honor and Celebrate the Top Drivers in the 2022 Racing Season
The evening will kick off at 5:30 PM with a social cocktail hour followed by dinner and the awards ceremony. Tickets are available online at https://www.myracepass.com/events/433260/tickets/?fbclid=IwAR0pMIdkPsiqFWxd01yeNZdusrS8jKCbisVg_eS3WCMvwRgfuQ2v6kMISTM.
POWRi Honorees:
Lucas Oil POWRi National Midget League: 1. Brenham Crouch, 2. Taylor Reimer, 3. Bryant Wiedeman, 4. Cannon McIntosh, 5. Chase McDermand (ROY) 6. Karter Sarff.
POWRi West Midget League presented by Realty Connect: Champion – Emilio Hoover.
POWRi Outlaw Micro League presented by Engler Machine & Tool: 1. John Barnard (ROY), 2. Hayden Harvey.
Lucas Oil POWRi 410 Outlaw Sprint League: Champion – Roger Crocket.
Lucas Oil POWRi Wingless Auto Racing Sprint League: 1. Kory Schudy, 2. Steven Russell(ROY), 3. Anthony Nicholson, 4. Wesley Smith, 5. Jack Wagner.
POWRi National Lightning Sprint Division | Regional Champions: 1. Alex Truscinski 2. Alan Truscinski, 3. Dexter Dvergsten, 4. Kelsi Pederson, 5. Chris Crowder | Regional Champions – MLS: Chasity Younger | MKLS: Alex Truscinski | RMLS: Johnny Boos | SWLS: Brent Sexton.
POWRi National Super Stock Division: 1. Aaron Poe, 2. Ted Welschmeyer, 3. Donnie Miller, 4. Michael Muskrat, 5. Devin Irvin, 6. Blaine Ewing, 7. Nick Gibson, 8. Justin Jarrett, 9. Chris Kircher, 10. Darek Wiss, 11. Bobby Ruff II (ROY), 12. Matthew Seaman, 13. Dale Berry, 14. Tony Anglin, 15. Chris Junkersfeld.
POWRi National Pure Stock Division: 1. James Redus, 2. Grayson McKiney, 3. Tyler Knudston, 4. Tyrel Jones, 5. Bradley McDowell, 6. Justin McDowell, 7. Preston McDowell, 8. Darin Porter, 9. Chris Countryman, 10. Kolby Rathbone, 11. Kevin Yount, 12. Zach Countryman, 13. Jeff Turpin, 14. Corey Henson, 15. Richard Burks.
POWRi National Midwest Mod Division: 1. Pete Richardson, 2. Colt Cheevers, 3. Steve Muilenburg, 4. Earl Roark, 5. Anthony Ferrera, 6. Dayton Newell, 7. Ben Newell, 8. Scott Campbell, 9. Jerad McIntire, 10. Garrett Thompson, 11. Kynsey Collins, 12. Eric Tinderholt, 13. Joe Francis, 14. Jeremy Lahey, 15. Gary Krebs.
Lake Ozark Speedway Honorees:
Wray's Lawn & Landscaping POWRi 305 Sprints: 1. Kenny Potter, 2. Randy Martin, 3. Mike Trent, 4. Jack Potter, 5. Natalie Doney (ROY).
Lake Ozark Performance Expo USRA B-Mods: 1. Adam Hall, 2. Rex Harris, 3. Jay Flinn, 4. Cole Campbell, 5. Don Williams.
DeGraffenried Heat & Cooling POWRi Super Stocks: 1. Darek Wiss, 2. Derek Henson, 3. Gary Lamke.
Central Sign and Lighting POWRi Pure Stocks: 1. Bradley McDowell, 2. Preston McDowell, 3. Jeff Turpin, 4. Paul Turpin 5. Rhonda Lamke.
Lake of the Ozarks POWRi Midwest Mods: 1. Earl Roark, 2. Sean Henson, 3. Adriell Shepherd, 4. Ben Newell, 5. Zach Martin.
To receive an award, participants must be present and complete in at least 80% of the seasonal events, the dress code is business casual. Tickets are available for purchase on the POWRi website for $40 each, tickets include a plated dinner and must be purchased by January 15, 2023.
Margaritaville Lake Resort Hotel Room Group Discount Rate – $109.00 plus tax
Guests may call (800) 826-8272 for reservations. Please identify yourself as a member of the POWRi Group to receive the discounted Group Rate. Individual reservations that are not canceled twenty-four hours before arrival will be charged for the first night's room and tax. Check-in is at 4:00 PM with check-out at 11:00 AM.
Guests that prefer to purchase by check please mail a check to POWRi Racing with the total amount of tickets needed ($40 per guest) and a note include of your party's name to POWRi Racing Attn: Lindsey Schuett 8939 Bevo Court Belleville, IL 62223.
The full 2023 POWRi Leagues as well as the 2023 Lake Ozark Speedway Schedules are currently being finalized and will be released in the upcoming weeks.
For more information on Lake Ozark Speedway such as points, driver profiles, and track data visit www.lakeozarkspeedway.net or @LakeOzarkSpeedway on all social media platforms.
Follow along for more information such as race recaps, updates, full results, and press releases online at www.powri.com, on Twitter & Instagram at @POWRi_Racing, or on Facebook at POWRi.
Back to News